It is often said that the rich live in a bubble apart from the rest of mortals, but that is not the case of Ricardo Leal, 67 years old. To find him in his town in Extremadura, the residents of Jerez de los Caballeros (Badajoz, 9,167 inhabitants) recommend going to Eritas any morning, a lifelong bar with two slot machines in one corner and the daily Ace in the bar. And so it is. When opening the door of the premises, there he is, dressed in a shirt and vest, having coffee and toast with oil for breakfast together with a friend and employee, the lawyer Rafael Pérez. People from Jerez tell of Leal that when Christmas arrives he could travel with his grandchildren to Disneyland (Paris), but he prefers to stay in Jerez watching the Three Kings Parade with excitement. He also comes across it through the streets of the town, eating a sandwich at the Trade Fair or the Ham Fair, picking mushrooms or asparagus.
This Jerez man, simple and reserved, seems like one of the town, but his fortune makes him very different. The son of a bricklayer, he started his business career from scratch in the 1970s and has managed to build a business conglomerate dedicated to activities as varied as jewelry, steel or renewable energy. In 2022, Leal became the 60th Spaniard on the Forbes list of the richest in Spain, with a net worth of 450 million euros. Ahead of him is 28 from Madrid, 10 from Catalonia, six from Galicia, five from the Balearic Islands, four from Valencia, three from the Basque Country, two from Murcia and one from Andalusia. But Leal is the first on the list based in inland Spain. Specifically, in a town without a highway that is slowly losing its population. Jerez de los Caballeros has fallen from 10,237 inhabitants in 2009 to 9,167 last year. That one of the centers of Spanish economic power rises in a place with such adverse conditions is an unexpected success that has turned Leal, his companies and a recently created charitable foundation into the best hope of saving this town from depopulation. white houses located in the south of Badajoz.
To get to Leal's office by car from Madrid, it is necessary to head towards the southwest of the country and prepare for a long road. After almost 400 kilometers of highway, the last section is a road in poor condition of about 50 kilometers and a single lane in each direction. The headquarters of his corporation, CL Grupo Industrial, is located in a two-story building. Leal directs his 26 companies from here, which employ more than 3,000 people in Spain and 13 countries in Europe, South Africa and North Africa. In 2021, your holding company billed 1,500 million euros. A considerable part of the production, nine companies, are located in Jerez de los Caballeros, where some 1,100 people from his municipality and other smaller towns in his region, the Sierra Suroeste, work for him.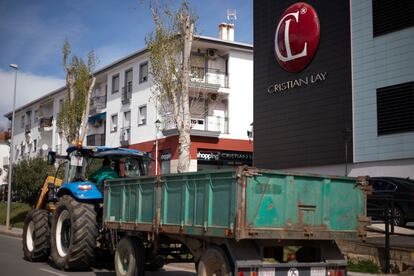 His ascent began at the age of 14, when he learned the jeweler's trade working for another from Jerez. At 22 he opened his own jewelry store on Calle de la Amargura. At 26 he created the Cristian Lay brand, which would make him famous. And at 30 he opened his first jewelry factory in Jerez. Instead of growing by opening physical stores in other towns, he chose the formula of door-to-door catalog sales for Cristian Lay. This is how it spread throughout the world in the eighties and nineties, when it was still very rare for an SME (small and medium-sized company) to embark on these adventures.
On those business trips, he has seen a lot of the world, but he has never lived permanently outside of Jerez. And he always tried to return to his land on weekends. "I don't particularly like cities. I am a person who adapts, but I love my town, breathing fresh air and nature. I need it ", says Leal shortly after receiving this newspaper, after his breakfast at the Eritas bar. "There are those who live in Madrid and every weekend he goes out to go to the mountains. Well, here I do it every day". In his office, on a wooden table, Leal has three framed photos: two of him, with his four sons, and another of a neighbor giving Pope Francis a leg of ham from one of his companies, the Dehesa de Valcabao ham manufacturer. .
What affects the most is what happens closer. To not miss anything, subscribe.
subscribe
The businessman has a very incredulous idea about the political discourse of empty Spain. He accepts that the world has changed and it is impossible to keep all rural areas populated. Not all municipalities in Spain can be recovered, according to him. "I, who have traveled the Camino de Santiago a lot, know quite a few villages through which I have passed and they have it impossible, because you don't even have schools for a child who is born," he says. It is the towns large enough to keep schools open, as is the case in Jerez de los Caballeros, that can harbor hope, but he encourages the local population not to settle in the complaint, but to assume responsibility for rural development . In his view, the key to promoting these territories lies in the fact that the entrepreneurs in these municipalities find a business niche and exploit it. He gives examples of marbles in Macael (Almería) or tomatoes from Miajadas (Cáceres). "No businessman is going to come from outside to fix the problems at home. Local companies have to start small and make it big".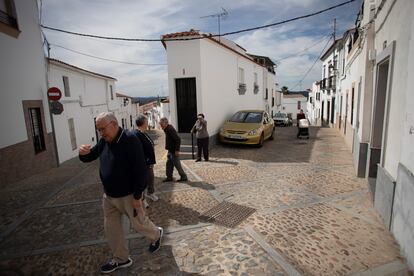 Leal has maintained its factories in Jerez de los Caballeros despite the fact that this entails an additional cost of time and money due to poor connections. Around 500 trucks enter or leave its factories in the municipality daily, such as the Perseida cosmetics plant, the Cristian Lay jewelry plant or the Balboa steel company. The roads collapse and harm the entire population of the region because drivers often have to travel for long minutes behind a tractor or truck until they can overtake.
A local radio journalist, Paula Díaz, laments the abandonment suffered by the area, the most obvious example of which is the demand for the highway, a unanimous request from all the local parties. "To put it in rural terms, if I have some fantastic oxen and cart, I need you to fix the roads for me. We would bring more people and resources. What is not acceptable is that we have a businessman who creates wealth and employment and communications are not up to par". For the moment, what the Junta de Extremadura of the socialist Guillermo Fernández Vara committed to last year is to build a third lane on a third of the road that leads from Jerez de los Caballeros to Zafra, where there is a highway that leads to Madrid and Seville. The works have not yet started.
The families to which he employs and the rest of the municipality thank Leal for his commitment to the area despite these limitations. In November, the City Council governed by the socialist Virginia Borrello recognized Leal as an Illustrious Jerezano with the vote in favor of 12 of the 13 councilors. The only one who opposed it, a councilor for Unidas por Jerez, expressed his respect to Leal but explained that he was voting against it because he would have preferred to award a woman, since the three winners from Jerez up until then had all been men. The mayor only has words of praise: "You have to lead by example and this man is doing it. This man and his children could live anywhere in the world they wanted and they have decided to continue betting not only on keeping these companies in his town, but also on living here".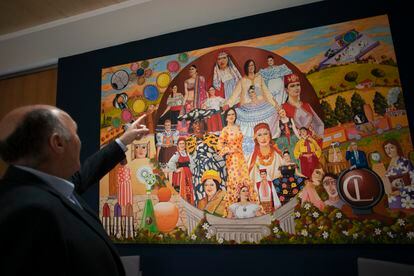 Leal's eldest son, Miguel Ángel, is 43 years old and heads the group's industrial division. He has studied at the American MIT (Massachusetts Institute of Technology), but it doesn't hurt to say emphatically: "I am from the town". He did it in a forum of España Vaciada in Jerez a year and a half ago. "One day you are in Jerez de los Caballeros and the next day you are in New York and three days later, in Shanghai. From Jerez de los Caballeros you can do that ", he told them. "Raising my daughter here in the town and another that is on the way will give her values ​​that perhaps cannot be given in other places."
However, young people are leaving the municipality and the birth rate is falling like in the rest of Spain. The owner of the Eritas bar, Joaquín the melli, has two daughters studying at the university in Seville. He encourages them to find a life in the Andalusian capital or where necessary. "The last thing is Jerez", he usually tells them for their own good. Many people from Jerez think like him. The population has spent two decades claiming that highway that never arrives and recently they have demonstrated the lack of doctors in the health center.
Three years ago the town looked over the precipice. It happened when the Balboa steel group, founded by the other great businessman from Jerez, Alfonso Gallardo, was drowning in debt. The people of Jerez panicked because another company from outside Extremadura was bidding for the conglomerate. The stalls of 900 people, a large part of Jerez de los Caballeros, were in danger. And Fernández Vara came into play: the president of Extremadura asked Leal to stay with the steel mill. It was a big risk. The production of the five Balboa plants had stopped due to the pandemic, which broke out that year, and the group was going bankrupt. Fernández Vara thought of Leal because he had experience acquiring companies in trouble and knew of his commitment to Jerez and the southwestern region of Extremadura.
"I was afraid of the responsibility that it entailed," says Leal. "I told my children that if that went wrong they were going to beat us up and we were going to have to leave Jerez. But we did it for the good of Jerez and the region. I replied to the president: 'Let's go forward".
One of his latest contributions has been to create the Ricardo Leal Foundation three years ago, which, among other projects, has opened a school in Jerez de los Caballeros with the Montessori philosophy, a demand from parents in the area. "We want to give back to Jerez society part of what it has given us", says Leal. "The school is sowing the future."